#_LOCATIONMAP
Date/Time
Date(s) - 23-03-2022 - 27-03-2022
11:00 am :5:00 pm
Categories No Categories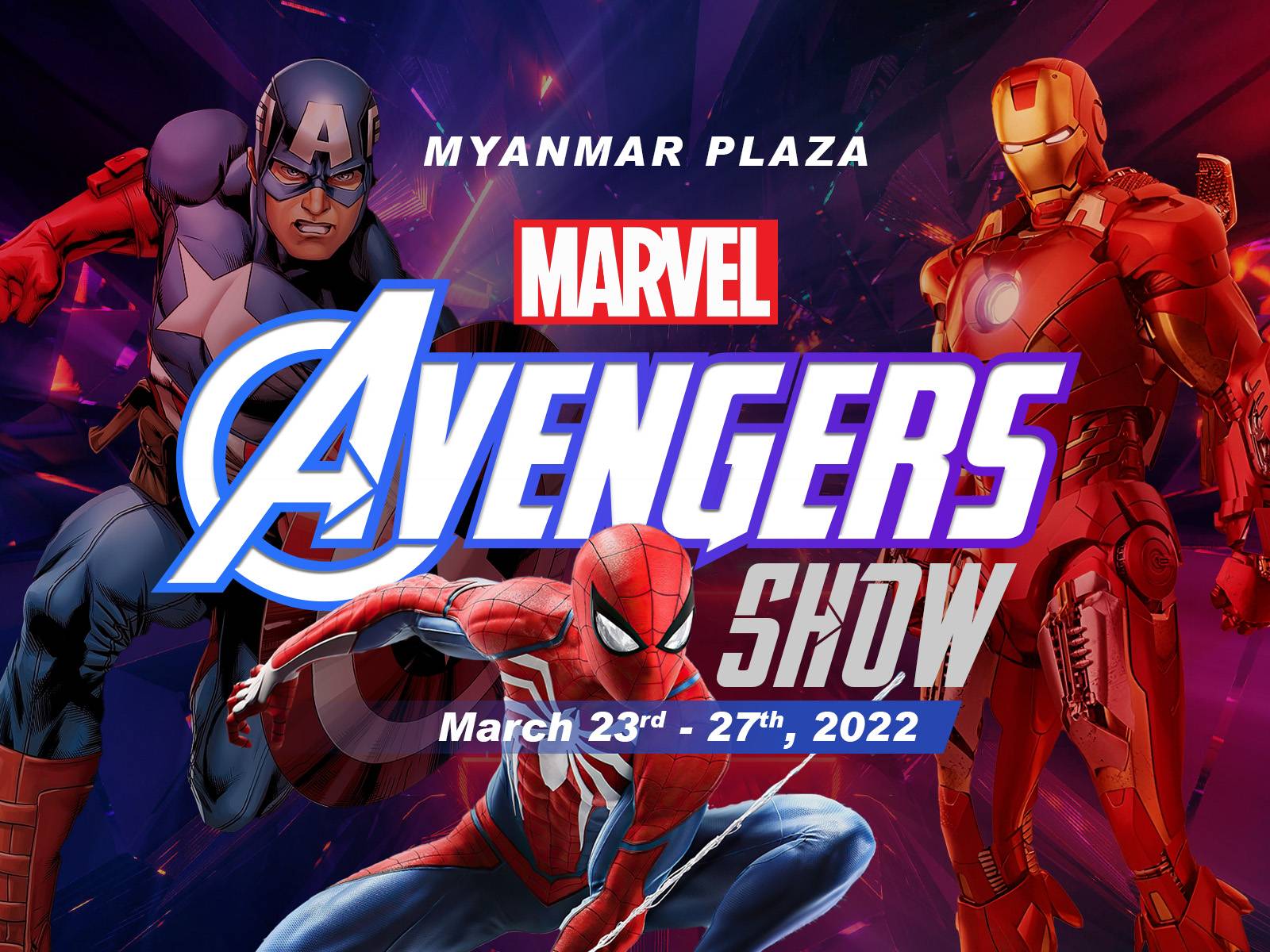 အသစ်ထွက်တော့မယ့် MCU ရုပ်ရှင်တွေအတွက် Marvel fan တွေစိတ်လှုပ်ရှားနေကြပြီလား။
တကယ်လို့ ထွက်ခဲ့သမျှဇာတ်ကားတွေထဲက ဇာတ်ကောင်တွေ အပြင် ရုပ်ရှင်ထဲမှာတစ်ခါမှမမြင်ရသေးတဲ့ စူပါဟီးရိုးတွေကိုအပြင်မှာတွေ့ခွင့်ရမယ်ဆိုရင်…?
မြန်မာပလာဇာက မတ်လ(၂၃)ကနေ (၂၇)ထိ ကျင်းပမယ့် Marvel Avengers Show မှာ MCU ရဲ့ ပေါ်ပြူလာအဖြစ်ဆုံးဇာတ်ကောင်တွေရဲ့ Cosplay Performance တွေနဲ့အတူ Marvel theme နဲ့ဖန်တီးထားတဲ့ merchandise လေးတွေကိုလဲတစ်နေရာထဲမှာဝယ်ယူရရှိနိုင်မှာပါ။
ဒါ့အပြင် MCU အစောပိုင်းကာလရုပ်ရှင်တွေကနေ End Game ထိ အမှတ်တရ clip လေးတွေကိုအတူကြည့်ဖို့ Mini Theatre လေးတစ်ခုလဲရှိနေမယ်နော်။
Cosplay performance တွေက မတ်လ ၂၅၊ ၂၆၊ ၂၇မှာ ကျင်းပမှာဖြစ်ပြီး Mini theatre လေးကတော့ နေ့တိုင်းရှိနေမှာပါ။
ကိုယ်အကြိုက်ဆုံးဟီးရိုးတွေနဲ့တွေ့မယ်၊ တစ်ချိန်ကအမှတ်ရခဲ့တဲ့ movie clip လေးတွေအကြောင်းပြန်တွေးမယ်၊ အမှတ်တရပစ္စည်းလေးတွေဝယ်မယ်ဆိုရင် မြန်မာပလာဇာ မြေညီထပ်ပရိုမိုးရှင်းဧရိယာမှာ မကြာခင်အတူဆုံတွေ့ကြမယ်နော်။
Marvel fans, are you excited for the upcoming MCU films?
How about meeting them face to face, even if they've never showed up in the big screen before?
If that excites you, make sure to visit Myanmar Plaza's Marvel Avengers Show and treat yourself to cosplay performance of MCU's most popular heroes, Marvel merchandises.
Add to that, a mini theatre will be there for you to see memorable video clips from earliest MCU films until the End Game.
Cosplay performance will be available from March 25, 26 and 27; the mini theatre will run everyday.
Let's meet our heroes in suit, geek over the memorable moments and collect some merchandise soon at Myanmar Plaza's ground floor promotion area.