#_LOCATIONMAP
Date/Time
Date(s) – 16-01-2022 – 27-02-2022
12:00 am
Categories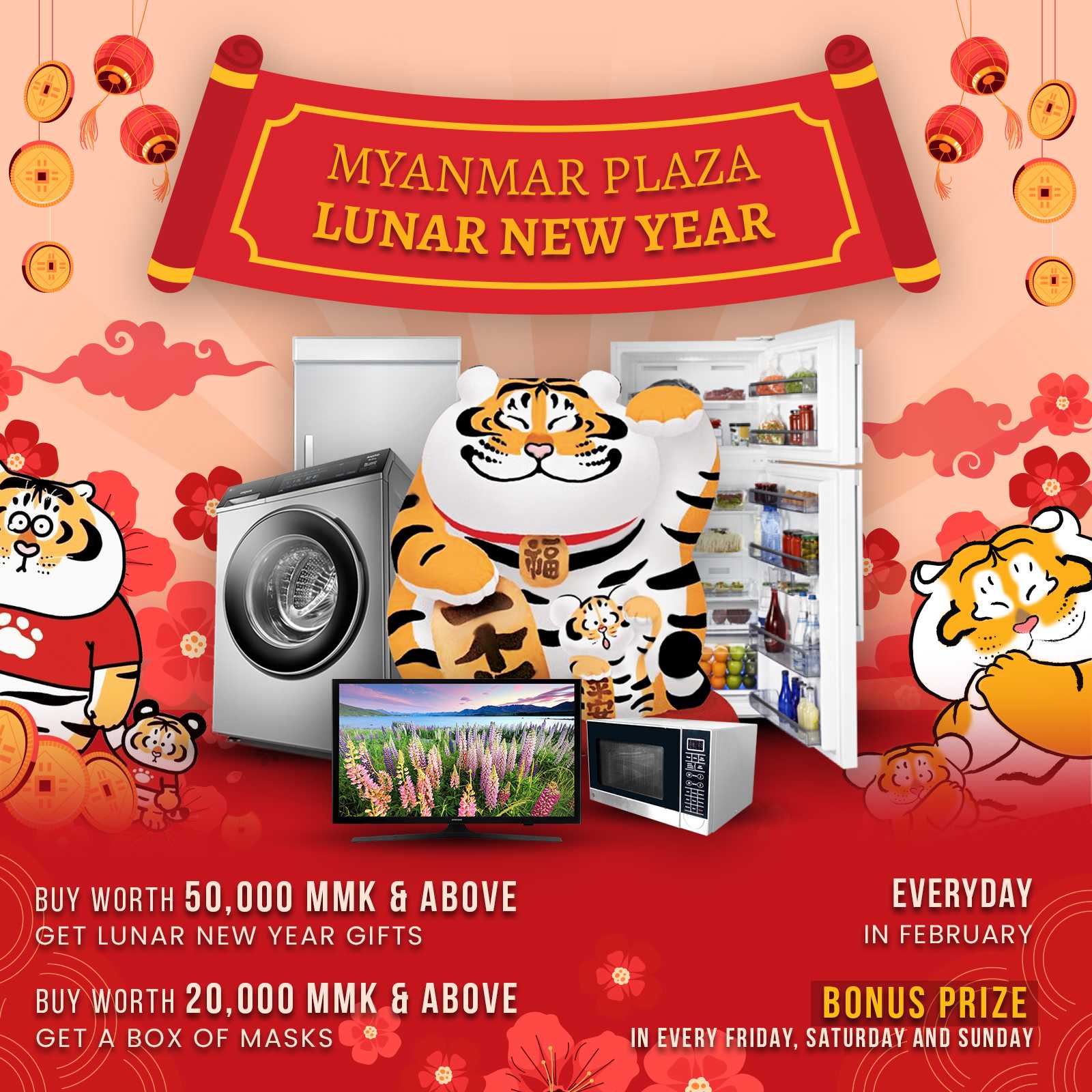 ဖေဖော်ဝါရီလရဲ့ အပတ်စဥ် သောကြာ၊ စနေ၊ တနင်္ဂနွေတိုင်းမှာ
👉 ကျပ်နှစ်သောင်းနဲ့ အထက်ဝယ်ယူသူတိုင်းအတွက် Face Mask ဘူးလက်ဆောင်၊
👉 ကျပ်ငါးသောင်းနဲ့ အထက်ဝယ်ယူသူတိုင်းအတွက် မြန်မာပလာဇာကပေးမယ့် ကျားနှစ် Zodiac Sign လေးပါတဲ့ ခွက်တစ်ခုကို လက်ဆောင်အနေနဲ့ပေးအပ်သွားမှာပါ။
မြန်မာပလာဇာရဲ့ member တွေဆိုရင်တော့ ကံစမ်းမဲအစီအစဥ်လေးတစ်ခုမှာပါထပ်မံပါဝင်နိုင်မှာဖြစ်ပါတယ်။
တစ်နေ့ကို စျေးဝယ်သူအယောက်(၂၀၀)အတွက်သာ သတ်မှတ်ထားတာကြောင့် စျေးဝယ်ပြီးတာနဲ့ receipt လေးတွေယူပြီး Information Counter မှာလက်ဆောင်လေးတွေအမြန်သွားယူဖို့မမေ့နဲနော်။
ဒီအစီအစဥ်လေးရဲ့ စည်းကမ်းချက်လေးတွေကိုတော့ အောက်မှာကြည့်ရှုနိုင်ပါတယ်။
The annual Lunar New Year Gift Program returns to Myanmar Plaza!
Every weekend of February, shoppers will receive
👉 A box of face masks for purchase of 20,000 Kyats and above,
👉 A "Year of the Tiger" mug for purchase of 50,000 Kyats and above.
Myanmar Plaza members, additionally, will have a chance to participate at a lucky draw program too!
Make sure to exchange your receipts at the Information Counter quickly as the Gift Program will be available to only 200 customers per day.
See the T&C below.