#_LOCATIONMAP
Date/Time
Date(s) - 06-03-2022
9:00 am :12:00 pm
Categories No Categories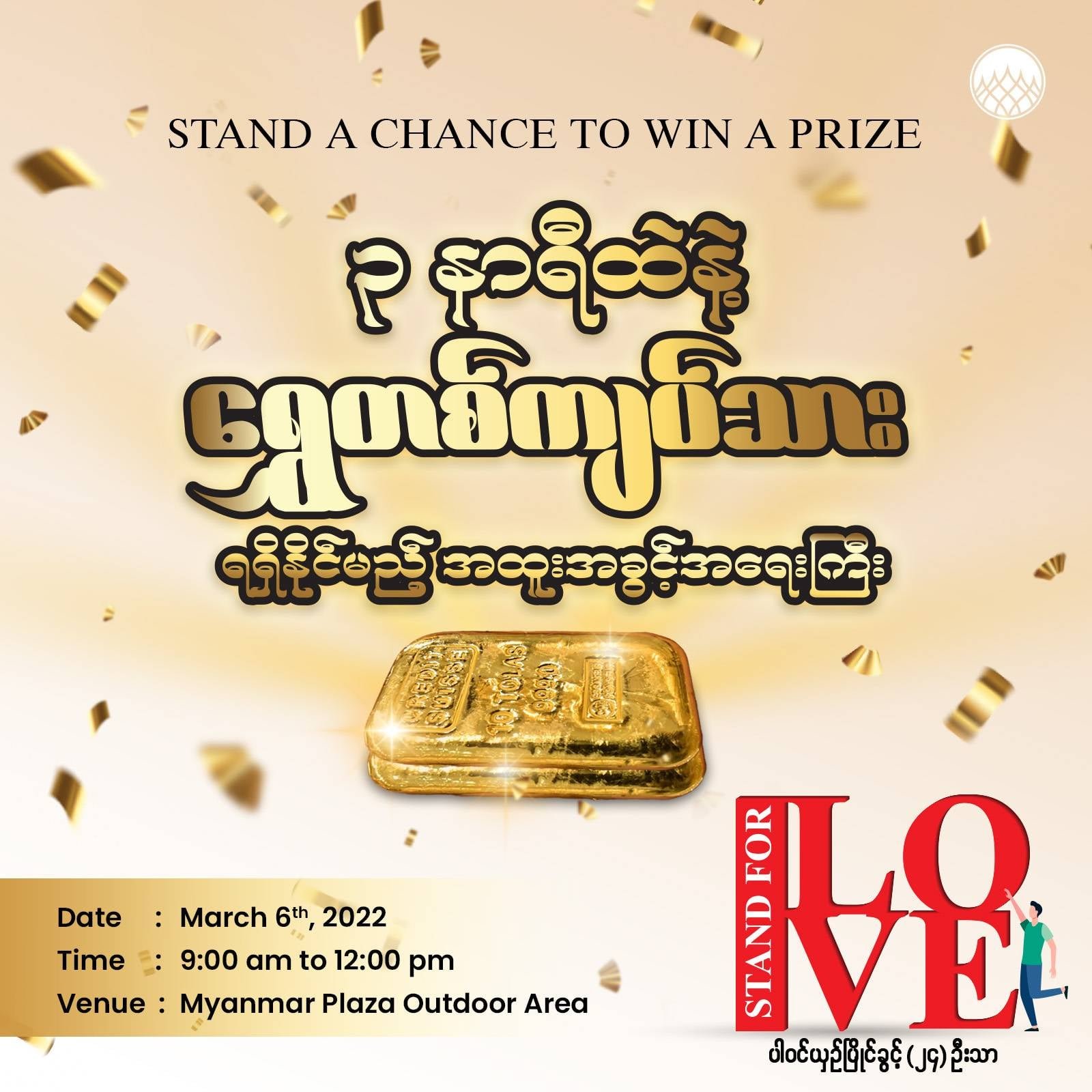 Last hand standing wins the prize!
လူတစ်ယောက်ဟာ တစ်နေရာထဲမှာ စိတ်ရှည်ရှည်နဲ့ အချိန်ဘယ်လောက်ကြာ မတ်တပ်ရပ်နေနိုင်မလဲ?
အဖြေကို လာမယ့်မတ်လ(၆)ရက်နေ့မှာ မြန်မာပလာဇာနဲ့အတူ အဖြေရှာကြည့်ရအောင်။
မနက်(၉)နာရီကနေစပြိုင်ပြီး နေ့ခင်း(၁၂)နာရီထိ မြန်မာပလာဇာရဲ့ နာမည်ကျော်ရေပန်းကြီးဘေးက LOVE စာလုံးတွေကို ခြေတစ်ဖက်ထဲရပ်ပြီး ပြိုင်ပွဲပြီးချိန်ထိ အကြာဆုံးလက်နဲ့ထိထားနိုင်တဲ့သူက အနိုင်ရရှိမှာဖြစ်ပြီး
ရွှေတစ်ကျပ်သားလက်ဆောင်
ကိုပိုင်ဆိုင်သွားမှာပါ။
How patiently a person can stand in one place?
Let's find out with Myanmar Plaza on March 6th!
Starting 9am to 12noon, we hold a contest to find out who can stand on one-foot and touch the LOVE letters by the popular water fountain of Myanmar Plaza for the longest duration.
The prize of one tical of gold will go to the winner who can stand until the end of the competition!
Think you have the patience to win the gold?