Map Unavailable
Date/Time
Date(s) - 15-02-2022 - 28-02-2022
9:00 am :4:00 pm
Categories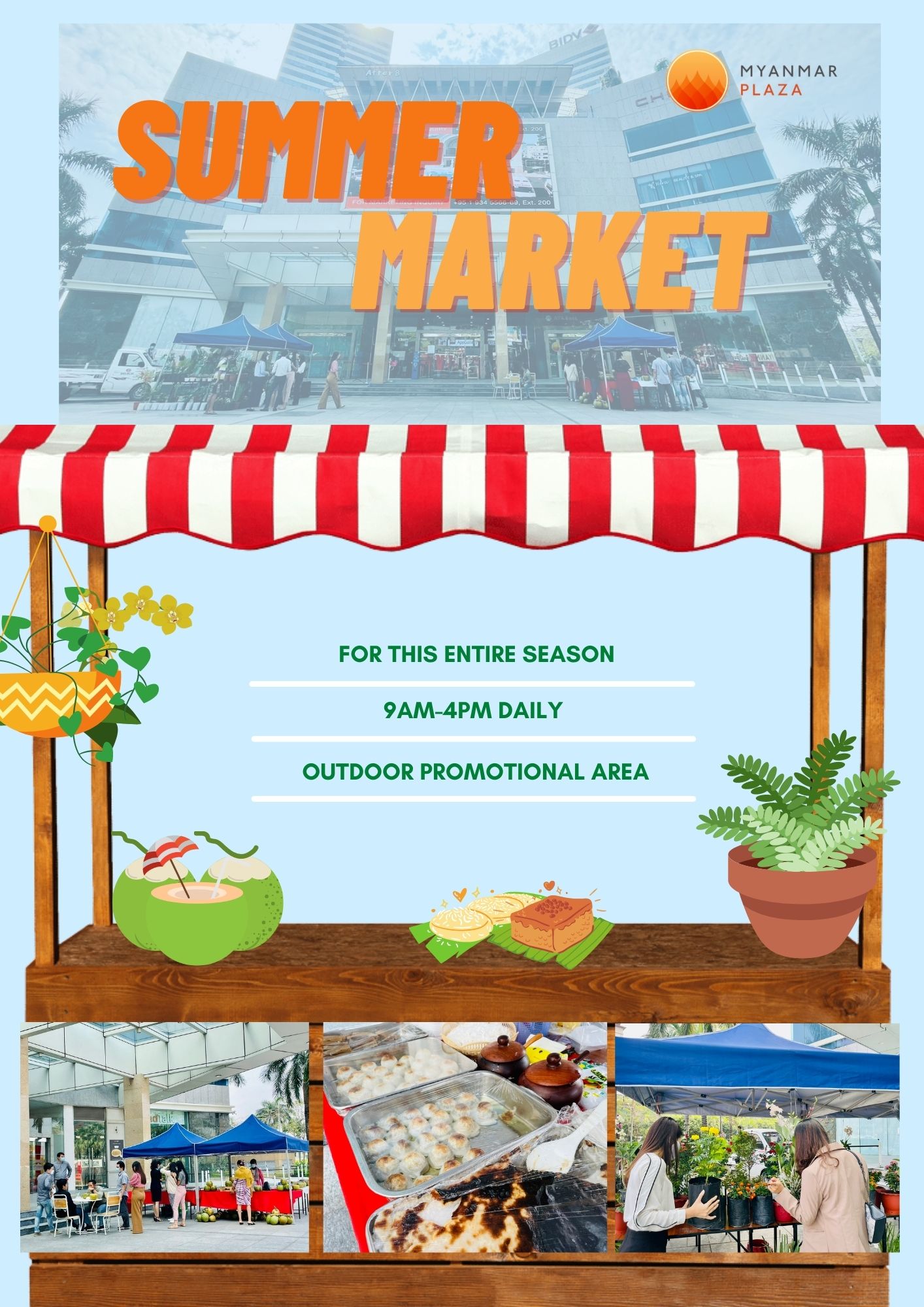 မြန်မာ့ပြည်တွင်းထုတ်ကုန်များနဲ့၊တနိုင်တပိုင်လုပ်ငန်းများရေရှည်တိုးတက်အဆင်ပြေစေဖို့ Summer Market ကိုမြန်မာပလာဇာအပြင်ဘက် ပရိုမိုးရှင်းဧရိယာမှာဖွင့်လှစ်လိုက်ပါပြီ။ မနက်စာဘဲစားစား ၊သွားရည်စာအနေနဲ့ဘဲစားစား အမျိုးအစားစုံလှတဲ့ ကရေကရာ၊ထမနဲ၊ရွှေကြည်၊ခေါပြင်၊သာကူပြင်၊မုန့်လုံးအိုးနို့ဆမ်းစတဲ့မြန်မာမုန့်မျိုးစုံအပြင်၊ ယခုလိုကပ်ရောဂါအချိန်တွေမှာ ကိုယ်ခံစွမ်းအားကိုမြှင့်တင်ပေးနိုင်တဲ့ သဘာဝအုန်းစိမ်းရည်နဲ့ မိမိရဲ့အိမ်ဝန်း၊ခြံဝန်းလေးထဲ စိတ်လက်ပေါ့ပါးရွှင်လန်းအောင် ဥယျာဥ်ငယ်လေးဖန်တီးချင်သူတွေအတွက် ပန်းမာန်ဆိုင်လေးတွေကိုပါ ထည့်သွင်းပေးထားပါတယ်။ ဒီဆိုင်လေးတွေကို ယခုပွင့်လင်းရာသီကစတင်ပြီးနေ့စဥဥ်မနက် ၉နာရီကနေ ညနေ4နာရီအချိန်ထိဖွင့်လှစ်ရောင်းချပေးသွားမှာဖြစ်ပါတယ်…
Come by and check out our Summer Market at the outdoors promotional area by the fountains!
You can enjoy a wide variety of Burmese traditional desserts as either breakfast or snacks, quench your thirst with some fresh coconut water to boost your immune system during these times and freshen your mind by buying more plants for your home garden.
Our Summer Market will be open everyday from 9AM to 4PM for the entire season. You're not going to want to miss out!