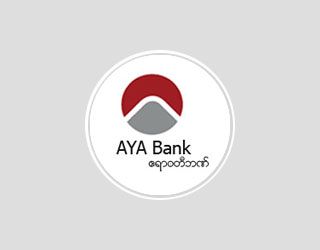 | | |
| --- | --- |
| Location : | GF-G16A-B |
| Contact : | 01-9345133/ 01-9345138 |
Ayeyarwady Bank received its banking license from the Central Bank of Myanmar on 2 July 2010 and began operations on 11 August 2010. The bank is authorized to operate as an investment or development bank for the domestic market and the approved banking activities include:
Borrowing or Raising of money
Lending or Advancing of Money either secured or unsecured
Receiving Securities or Valuables for Safe Custody
Collecting and Transmitting money and Securities
Provides International Banking Services including international remittance, payment and trade services
Ayeyarwady Bank subscribes to global standards in governance, risk and compliance in its management and operations. The bank has engaged talents with both domestic and international exposures and has invested significantly in training and technology as a way to ensure long term sustainable growth for the bank and for the community it serves.
Since its inception, the bank has grown steadily with the number of branches increased progressively to eight and customer deposits grew healthily to Kyats 163 billion as at end October 2011, signifying increased confidence among the public in the bank.
For the years ahead, the bank will continue to extend its branch network throughout Myanmar. It will continue to focus on building relationship with customers, providing excellent customer service, and leverage on technology as the enabler to enhance its customer base. At the same time, the bank aims to strengthen its governance, risk and compliance structure as a measure to ensure balance and sustain growth.