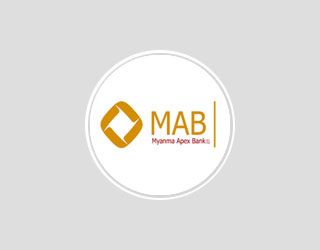 | | |
| --- | --- |
| Location : | GF-G25 |
| Contact : | 01 9345 235/ 9345238 |
Myanma Apex Bank Ltd (MAB) was incorporated on 2nd July, 2010 and opened its first branch office in Naypyitaw on 17th August, 2010. Since inception, we have extended our branch network steadily to facilitate commercial development and investment across all of Myanmar as well as to better serve our growing customer base through a larger banking network. Customer deposits have grown significantly since inception, due to our deliver of quality service, reliable performance, customer satisfaction and trust among the general public.
We have within the bank both local and external talents with many years of professional experience in domestic and international banking. MAB invests extensively in technology and human resources to sustain our future long-term growth and to stay ahead amidst growing competition.
For domestic banking, we provide a comprehensive range of deposit products, financing options for large and small businesses through loans, overdraft and hire purchases, reliable and extensive ATM, POS service via the Myanmar Payment Union (MPU), VISA and MASTER card network. For international banking, we provide foreign trade finance as well as worldwide payment services with partners, including Western Union, VISA, Master Card, China Union Pay and other major card organizations. Other services include gift cheques, payment orders and local remittance and other ancillary services.